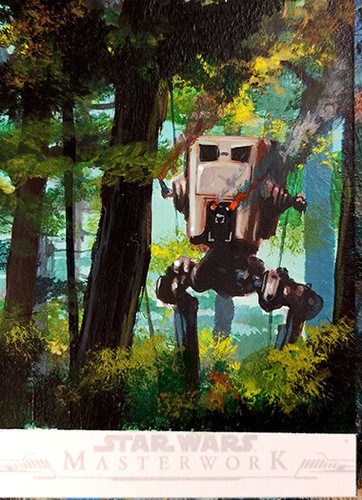 Up for a 7-day auction is this Topps' Star Wars Masterwork artist proof card – auction begins at .99 cents. The card stock is slightly thicker than regular stock. Hand painted with acrylic paint, the card measures 2.5 x 3.5 inches and has a light glaze applied to protect it for many years to come.
I'm slowly raising funds for the trip to the Non Sport Show in Allentown in May – gas from Canada and hotel fees – so I'll be having a couple of cards up for auction in the coming weeks, in hopes to cover costs. At the con itself I'll also have a variety of cards with me for sale, and they can be had at a fraction of the cost, so come say hello to me and other guests!
Also, my Sketch Card eBook should be released by then and I may be selling them there, or at a reduced price onsite, but I'm not sure yet on that one. Stay tuned for that (there will be massive updates when the time comes).
The ebook is currently out to alpha readers, and the second draft is going along.
Thank you for reading!